Educational Childcare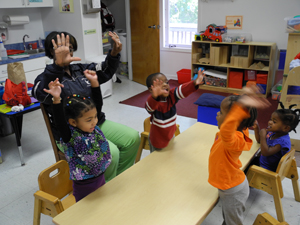 At the Texie Camp Marks Children's Center located in Franklin and the Suffolk Children's Center, we offer licensed educational childcare services for children six weeks of age through the age of five. The Children's Center seeks opportunities to serve children of different cultures, races, genders, socio-economic backgrounds, and ability levels.
EDUCATIONAL CHILDCARE SERVICES
Year-Round Daily Care offers full and part-time child care services from 7:00 a.m. to 5:30 p.m. Monday through Friday in Franklin and 6:45 a.m. to 5:45 p.m. in Suffolk Monday through Friday.
Pre-Kindergarten Classes offer full and part-time options for rising kindergartners.
Special needs care offers developmental programming for children with disabilities in a child care environment.

LICENSING
The Virginia Department of Social Services licenses both Franklin and Suffolk locations to provide community child care services.
QUALITY RATING
All of the Children's Center buildings participate in the Virginia Star Quality Initiative.
CURRICULUM
The Children's Center uses the Creative Curriculum System in all of its classrooms.
Early Intervention | Pediatric Therapy | Early Head Start | Head Start | Behavioral Health Services | Grief Support Group