Early Intervention Awareness Month
Early Intervention at The Children's Center has always been at the core of every service that we offer. We nurture and educate children and families. A big portion of that education includes educating families on what to expect next in their child's development. If the Parent(s) become concerned after we offer the education, our Early Intervention Team is there, ready to step in to offer support, encouragement and coaching.
Early Intervention laid the foundation for our Centers to be where they are today. I always love telling my version of the story of how Barbara Mease, our very first Executive Director was given an opportunity to write and submit a grant, that would bring services and supports to families in Western Tidewater whose children were developing differently than their typically developing peers. In 1983, the Center branched out from the original agency from which it was created, Edmarc Hospice. Edmarc decided to continue their mission of providing hospice services. The children that were being served by the Children's Center had little to no opportunities to socialize with their typically developing peers therefore role models were few and far between. Now this is my favorite part of the story… are you ready? Barbara Mease and Rosalind Cutchins were mothers of young children at the time. An A-HA moment! Why not include children with different abilities alongside their typically developing peers? Both would reap the benefit of the socialization opportunities with same age peers no matter their abilities.  A gift would be given to all the children… the opportunity to teach children kindness and compassion no matter how able bodied their peers were. Also giving families of children with different abilities the same opportunity for childcare that every other family had.  There you have it… the story of the original "Wonder Women" who stood for goodness, love and compassion.  Still two of my Sheroes today!
I wanted to take this opportunity to thank all of the members of our Early Intervention Team for continuing to carry the flame that was lit so long ago. Each one brings different talents to our Team.  But the common denominator on this team is all these women have a servant's heart. Day in and day out they put the needs of the children and families first: to make sure they feel safe, supported and listened to; to make sure they understand how their insurance can help in paying for EI services and if not, advocating for ways to appeal fees; to guide them in finding strategies to help their child be successful as defined by their own definition of success. A group that works quietly and is not looking for recognition. You can have more than two "Sheroes" in your life… I happen to have an entire team of them!  May is Early Intervention Awareness month but this group are my "Sheroes" every day!
I asked each team member: "If you had a captive audience of 1,000 parents/guardians that had a child with a developmental delay or diagnosed disability, just starting their journey in Early Intervention, what would you say to them?" Read their responses below! 
**If you have questions or concerns about your child's development, please call (757)562-6806 to have your questions answered or to make a referral.
~Marti Clark, Local System Manager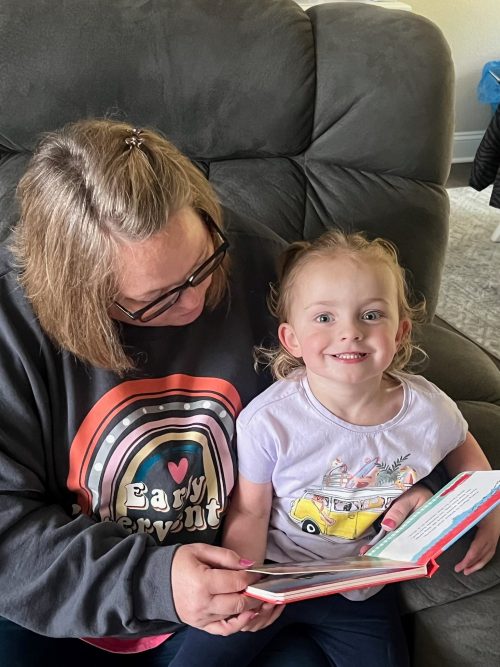 Joellene Smith
Joellene has been an Early Intervention Insurance Billing Specialist at TCC for 5 years.
Joellene: "We are here to help you, your child and be by your side through this journey."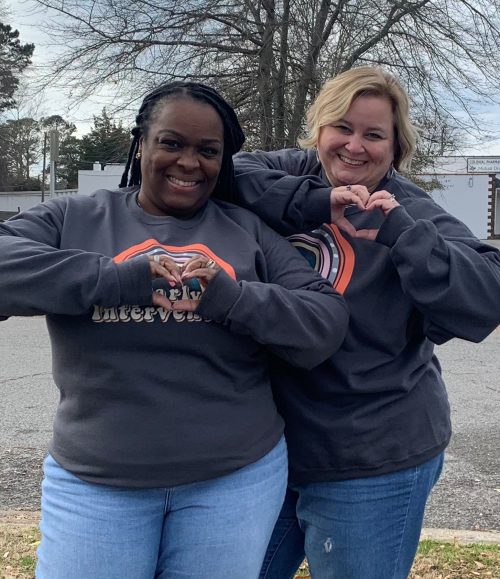 Juana Smith & Marti Clark (L to R)
Juana has been an Early Intervention Service Coordinator at TCC for 2 years.
Juana: "Your EI journey is just that, yours. You will hear lots of stories, get lots of advice and recommendations, but just as no two children are the same, no two EI journeys are the same. My job is to provide you with as much information and support as I can. I will make sure you have all of the services and resources available to you in an effort to help you along this journey. Making it as smooth as possible so that when your time with us ends, you are able to move on, confidently."
Marti has been an Early Intervention Service Coordinator & Local System Manager at TCC for 19.5 years.
Marti: "You are the driver on this journey. We will follow your lead. You tell us when to speed up, when to slow down, when to back up or when to stop because you need a break. And it's okay to ask for directions."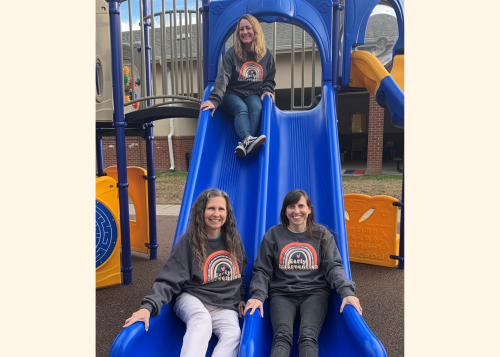 Kristie Dailey (Top of slide)
Anne Langer & Bitsy Womack (Bottom L to R)
Kristie Dailey has been a Special Educator & Rehab. Manager at TCC for 17 years.
Kristie: "In Early Intervention, you will get your own team of professionals to guide and coach you through fun, meaningful strategies to help your baby grow and develop.  Together we will find ways to help your infant or toddler happily participate in all family routines and activities to the best of his or her ability.  We will have a blast helping your baby learn how to learn!!"
Anne Langer has been an Early Intervention & Rehab. Speech Language Pathologist at TCC for 32 years.
Anne: "That is a tough question because each family and individual is so unique; however, a couple things seem to be universally true. I would ask parents to trust themselves and believe in themselves and their abilities because they know their child better than anyone else. I would let them know that there is never a silly question and that they can (and should) ask the people (specialists/doctors/service providers) as many questions as they want. I would encourage families to do their best to find the joy in each day when playing and growing with their child because when playing and interacting is fun, that is when the learning happens."
Bitsy Womack has been an Early Intervention & Rehab. Occupational Therapist at TCC for 4 months.
Bitsy: "Trust the EI process, we are here to help!"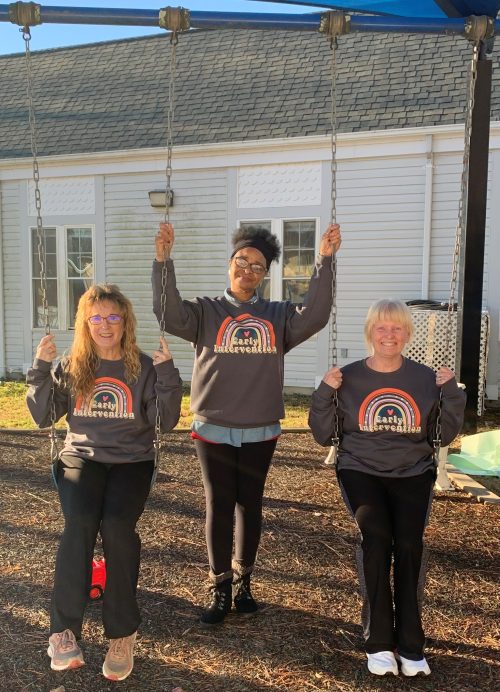 Nan Carr, Deborah Urquhart & Rosalind Cutchins (L to R)
Nan has been an Early Intervention Service Coordinator at TCC for 6 years.
Nan: " This is a journey that you will not be alone in. Starting in Early Intervention, know that you will have a team to lean on, supports to help you and your child, as well as help in connecting with resources to make the journey a growing process for you and your child."
Deborah has been an Early Intervention Service Coordinator and Intake Coordinator at TCC for 37 years.
Deborah: "Our EI team is here to support them on this journey.  Also, parents are definitely included as the most important team member in the EI process and in planning for their child."
Rosalind has been at TCC since the beginning… 43 years!! She has worn many hats but one of the first ones she wore was that of an intern to help Barbara Mease, the Executive Director at the time, bring the Early Intervention Program to the children and families in Western Tidewater.
Rosalind: "Being the parent of a child is to open your heart, mind, and soul to love, hopes, challenges, and fears.  Believe that you are the best parent for this child.   Your pathway will be filled with unexpected joy, uncertainties, triumphs, and disappointments. Parenting is believing in love, believing in grace for yourself and your child, and believing in resilience with those around you.  You will do the best you can, learn along the way, and leave a trail behind you for the next parent who needs your wisdom and strength."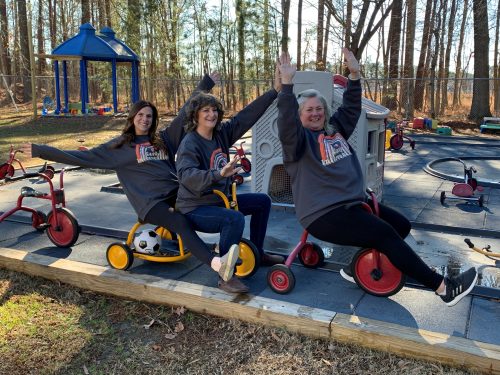 Brooke Bryant, Margaret Bachman & Holly Giles (L to R)
Brooke has been an Early Intervention & Rehab. Occupational Therapist at TCC for 2 years.
Brooke: "You are the experts when it comes to your child/children. Focus on your own unique goals, interests and the  strengths of your child/family throughout the intervention."
Margaret has been an Early Intervention & Rehab. Speech Language Pathologist at TCC for 29 years.
Margaret: "Talk to your kiddo and read a book every day."
Holly has been an Early Intervention Special Educator at TCC for 17 years.
Holly: "You are your child's 1st teacher! I didn't realize the importance of this until I had a mom repeat my words to me during the challenging times of virtual sessions. Use your routines for teaching and learning moments!"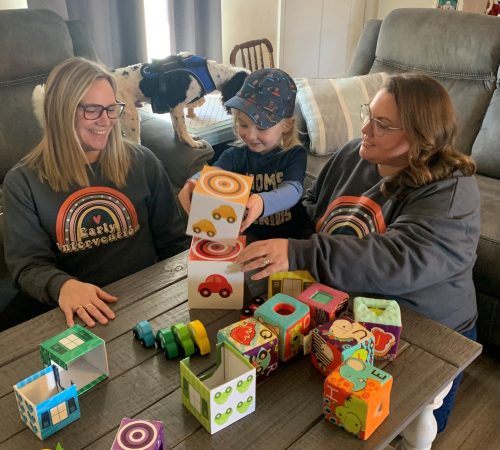 Allyson Chaney & Mandy Smith (L to R)
Allyson has been an Early Intervention Service Coordinator at TCC for 1.5 years.
Allyson: "Love your child for who they are, especially for their differences; a diagnosis, delay, or disability does not define your child, love does."
Mandy has been an Early Intervention Service Coordinator at TCC for 5.5 years.
Mandy: "I would tell them that I am excited to join them on their Early Intervention journey. Every journey looks a little bit different but each one is exciting and special. I would also tell them that I am looking forward to helping them bridge the gap between the diagnosis and all the things they will need or want to learn to help their child achieve their goals.  Early intervention is a phenomenal resource that serves the whole family!"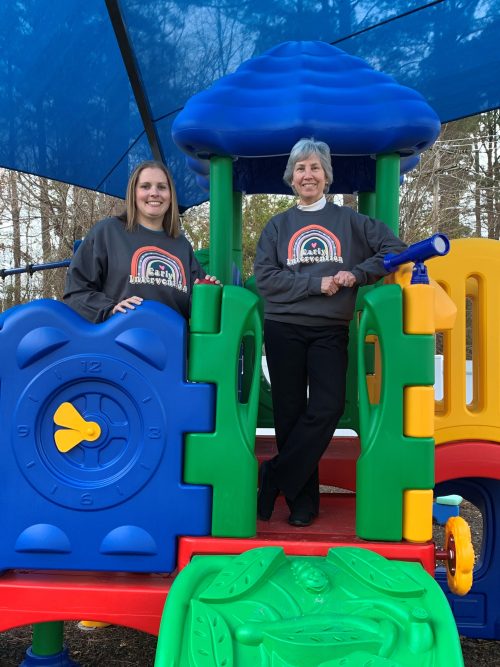 Brandi Fowler & Janet Owens (picture L to R)
Brandi has been an Early Intervention Insurance Billing Analyst at TCC for 4.5 years.
Brandi: "Early Intervention is the best program to get a jumpstart to your child's bright future."
Janet has been a Finance Director at TCC for 32 years.
Janet: "Here at the Children's Center, we embrace our mission to nurture and educate children and their families. We look forward to supporting you on this new path for you and your child/children."

Deanna Noel – Special Educator/Service Coordinator