Early Head Start
The Children's Center is the grantee for the Western Tidewater Early Head Start program, which provides family-centered services to low-income pregnant women and families with children under the age of three. Early Head Start promotes the physical, cognitive, social, and emotional growth of young children as well as supports parents' roles as primary caregivers and educators.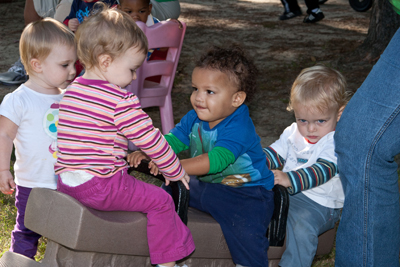 The United States Department of Health and Human Services funds Early Head Start and this funding must be matched locally at 25%. For each dollar given to the program, the Children's Center must match it with 25 cents given locally.
EARLY HEAD START SERVICES
Center-Based Child Care
Child care is available either full or part time for infants and toddlers.
Classroom ratios are one adult to every four children.
Each classroom lead teacher has a Child Development Associates degree or higher plus infant/toddler care experience.
Transportation provided by commercially licensed drivers is available to and from the Center if needed.
Home-Based Services
Home visitors screen children for developmental delays and assess their educational needs. They offer families developmentally appropriate activities for their children; health, prevention, and early prenatal education; and support for parental literacy.
POLICY COUNCIL
Parent and community representatives form the Early Head Start Policy Council, which develops plans, policies, procedures, and budgets for the program. The Council also contributes to hiring of staff. Early Head Start parents comprise at least 51% of the Council.

REFERRAL AND ELIGIBILITY
To be eligible for Early Head Start, you must live in Western Tidewater (Franklin, Southampton County, Suffolk, Smithfield, or Isle of Wight County) and either be a TANF recipient, have a foster child, or have a total annual family income not exceeding these amounts:


Size of family Income
1…………………………………$12,140
2…………………………………$16,460
3…………………………………$20,780
4…………………………………$25,100
Add $4,320 for each additional family member.
NOTE:
As of May 1, 2015, all applications will be accepted by appointment only.
The application process includes several parts, all of which must be completed in order for your child to be placed on our Waiting List. The following items are required to complete the application process:
Birth certificate (birth letter is acceptable for EHS only)
Proof of residency
Proof of income or eligibility using one of these -- W-2, 1040 tax form, 4 most recent pay stubs, TANF or SSI documentation, unemployment letter, foster child documentation
Child's current physical form
Child's current immunization records
Child's health insurance card
IEP or IFSP if applicable
The Children's Center can assist you in gathering these items.
At the appointment, you will be asked to complete an application and Selection Criteria Ranking Scale form.
Contact the Family Advocate in your service area to schedule an appointment.
Franklin 562-6806
Suffolk 809-5557
Southampton County 653-9792
Isle of Wight County 356-1004
Early Intervention | Pediatric Therapy | Early Care and Education | Head Start | Behavioral Health Services | Grief Support Group